Cauliflower Roast With Anchovy Breadcrumbs
From Vegetables on Fire [1] by Brooke Lewy
Notes
While this cauliflower roast looks impressive, it couldn't be easier to get on the table. Roasting the vegetable whole makes it more forgiving than grilling the florets individually.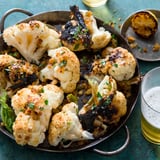 Ingredients
1 (1 1/2 pound) head of cauliflower
1/2 cup extra-virgin olive oil
Kosher salt
8 anchovy fillets
3 garlic cloves, peeled and finely chopped
1 shallot, peeled and finely chopped
1 teaspoon lemon zest
1/4 teaspoon crushed red pepper flakes
1 cup fresh bread crumbs [2]
1/2 cup finely chopped flat-leaf parsley
Lemon wedges, for serving
Flaky salt, such as Maldon, for serving
Directions
Heat your grill to medium, so it's around 400°F with the top closed. Trim the leaves and the very bottom part of the stem off the cauliflower and discard. Set the head on a sheet of heavy-duty aluminum foil. Brush the cauliflower all over with 1/4 cup oil and sprinkle liberally with kosher salt. Transfer the cauliflower, on the foil, to the grill, cover, and let cook, undisturbed. After 20 minutes, begin checking for doneness. The cauliflower will be done when the whole head is golden and a knife can slip into the vegetable with little resistance, but before it gets mushy or the cauliflower starts to break apart when squeezed. It could take up to 35 minutes to finish cooking, depending on the size of the head and the temperature of the grill. If it requires more time, just cover the grill and wait a few more minutes before checking again.
Indoor method: Preheat the oven to 400°F. Trim, oil, and season the cauliflower as directed. Place in a cast-iron skillet and cover tightly with foil. Roast the cauliflower for 30 minutes. Remove the foil, and roast for an additional 30 to 45 minutes, until the entire cauliflower is tender and deeply brown. Proceed with the recipe as directed.
Meanwhile, make the bread crumbs. In a large sauté pan or skillet, heat the remaining 1/4 cup olive oil over medium heat. When the oil starts to shimmer, add the anchovies, garlic, shallot, lemon zest, red pepper flakes, and bread crumbs. Cook, stirring often, until the anchovies have dissolved and the garlic, shallot, and bread crumbs are golden. Turn off the heat and stir in the parsley. Set aside.
When the cauliflower is done, transfer it to a large plate or platter. Use two forks to pry the head apart into several large pieces. Squeeze a wedge of lemon over the cauliflower and sprinkle with coarse, flaky salt. Pile the bread crumbs in the center. Serve immediately.
From Vegetables on Fire, by Brooke Lewy, photographs by Erin Kunkel (Chronicle Books, 2017).
Information
Category

Side Dishes

Cuisine

North American

Yield

Serves 4