Crispy Persian Rice (Tahdig) With Spiced Golden Chickpeas
Half Baked Harvest
Notes
Tip: If your rice doesn't come out in one piece, please don't stress — just scoop out the rice as is, and serve. It's going to be delicious, no matter what.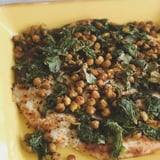 Ingredients
2 cups basmati rice
Kosher salt
3 tablespoons plain yogurt
3 tablespoons salted butter
3 tablespoons extra-virgin olive oil
1/2 cup fresh mint or cilantro
1/4 cup extra-virgin olive oil
1 (16 ounce) can chickpeas, drained and patted dry
2-4 cloves garlic, thinly sliced or smashed
2 shallots, thinly sliced
1 teaspoon ground turmeric
1 teaspoon smoked paprika
1 pinch crushed red pepper flakes
2 tablespoons raw sesame seeds
2 cups roughly torn greens, such as kale, chard, or spinach
Directions
Bring 6 cups of water and about 1/4 cup salt to a boil in a large pot. It seems like a lot of salt, but it's not, trust me.
Rinse the rice under water. Once the water is boiling, add the rice, and stir. Cook, stirring occasionally until al dente, about 6 to 8 minutes. Drain into a sieve and rinse with cold water to stop the cooking.
In a bowl, combine 1 1/2 cups of the rice with the yogurt.
Melt together the butter and oil in a 10-inch skillet set over medium heat. When the butter melts, add the yogurt coated rice and level it out with the back of your spoon. Pile the remaining rice into the pan, mounding it toward the center. Using the handle of a wooden spoon, gently dig 5-6 holes into the rice down to the bottom of the skillet. There should be enough oil in the pan so that you can see it bubbling up the sides. Add oil if needed.
Cook the rice over medium heat, turning the pan a quarter turn every 5 minutes to ensure even browning. Cook until you start to see a golden crust begin to form at the sides of the pan, about 15 minutes. Then reduce the heat to low and continue cooking another 15 to 20 minutes. The edges of the crust should be golden, after about 35-40 minutes total.
Meanwhile, make the chickpeas. Heat a large, high-sided skillet over medium heat. Add the oil, chickpeas, garlic, shallots, turmeric, paprika, a pinch of red pepper flakes, and salt. Cook, stirring occasionally until the chickpeas are crisped all over, about 8-10 minutes. Add the sesame seeds and greens, tossing to combine. Cook 2 minutes, until toasted, and remove from the heat.
Run a spatula along the edges of the other pan to release the rice. Carefully flip the rice onto a platter. Serve topped with chickpea mixture and fresh cilantro or mint.
Information
Category

Main Dishes

Cuisine

Other

Prep Time

10 minutes

Cook Time

50 minutes

Total Time

59 minutes, 59 seconds
Nutrition
Calories per serving

233