Vegan Chocolate-Marbled Pumpkin Protein Bread
Adapted from a recipe from vegan chef Chloe Coscarelli
Notes
Chef Coscarelli's version is made with two cups of all-purpose flour instead of white whole-wheat flour, no protein powder, one full cup of sugar, canned coconut cream for the nondairy milk, and coconut oil instead of applesauce.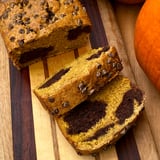 Ingredients
1 2/3 cups white whole-wheat flour
1 serving vanilla plant-based protein powder (1/3 cup; I used Orgain, which has 21 grams of protein per serving)
3/4 cup organic cane sugar (or coconut sugar or stevia)
1 teaspoon baking powder
1 teaspoon sea salt
1/2 teaspoon baking soda
1 tablespoon pumpkin pie spice
1 cup canned pumpkin puree (or sub for sweet potato puree)
1 cup unsweetened nondairy milk (I used Silk Unsweetened Vanilla Almond and Cashew milk [1])
1/2 cup applesauce
1 tablespoon apple cider vinegar
1 tablespoon vanilla extract
3 tablespoons unsweetened cocoa powder
2 tablespoons water
2 tablespoons vegan chocolate chips (optional; I used Enjoy Life Mini Chips)
Directions
Preheat oven to 350°F. Lightly grease an eight-inch loaf pan or line it with parchment paper.
In a large bowl, whisk together the dry ingredients: flour, protein powder, sugar, baking powder, salt, baking soda, and pumpkin pie spice.
In another bowl, whisk together the wet ingredients: pumpkin puree, nondairy milk, applesauce, apple cider vinegar, and vanilla. Pour the wet mixture into the dry mixture and whisk until just combined, careful not to overmix. The batter will be thick.
Now it's time to make the chocolate batter. Transfer one cup of the batter into a small bowl and stir in the cocoa powder and two tablespoons of water until smooth.
Drop a few large spoonfuls of the plain pumpkin batter into your prepared pan. Now drop a few large spoonfuls of the chocolate batter. Continue alternating between the two until all the batter is in the pan. Leave as is or take a chopstick or skewer and gently swirl the chocolate batter into the pumpkin batter.
Sprinkle the chocolate chips on top (optional but awesome!).
Bake for about 60 to 75 minutes, or until a toothpick inserted in the center comes out dry with a few crumbs clinging to it.
Allow bread to cool in the pan before removing. Store leftovers in an airtight container in the fridge for up to five days, or freeze individual slices for several weeks.
Here's the nutritional information for one slice (this recipe makes eight) from verywell.com [2]: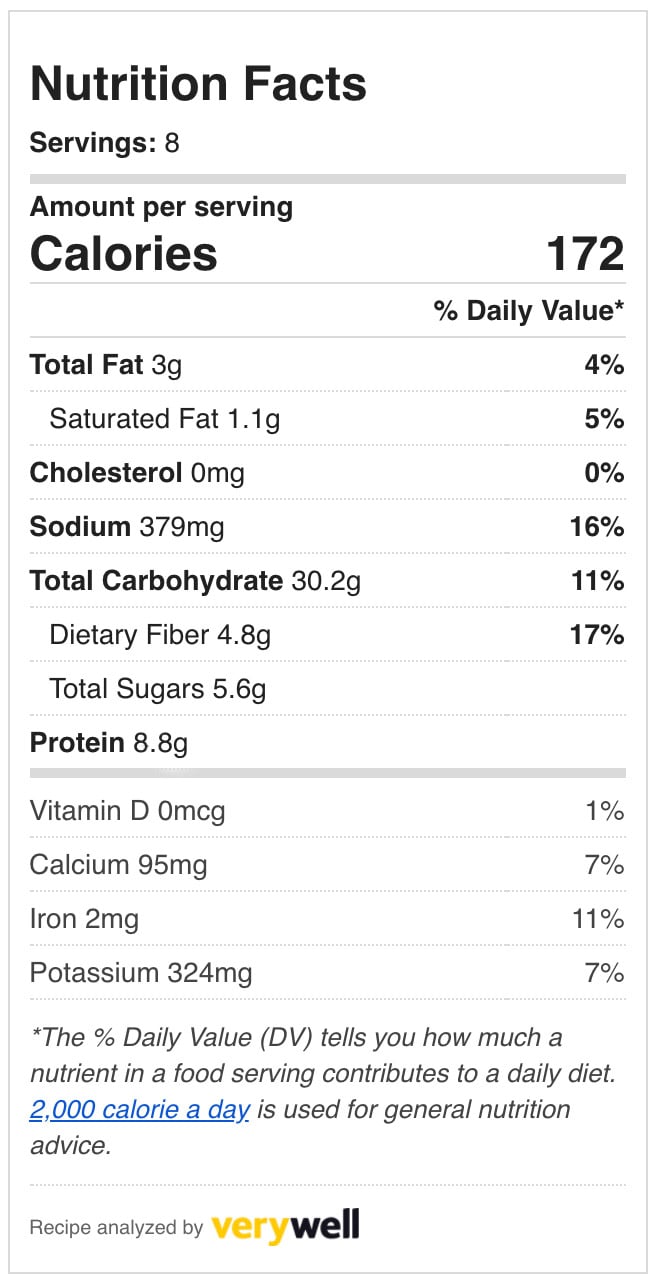 Information
Category

Desserts

Yield

8 servings

Prep Time

15 minutes

Cook Time

60 minutes

Total Time

1 hour, 14 minutes, 59 seconds
Nutrition
Calories per serving

172