Cacio e Pepe
TikTok user Pina Bresciani (@pinacooks)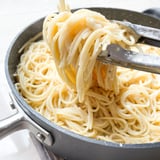 Ingredients
1/2 tablespoon whole black peppercorns
2 1/2 cups pecorino romano, finely grated
250 grams spaghetti
Salt for the pasta water
Directions
Boil a shallow amount of water in a pot over high heat. Add salt. While waiting for the water to boil, finely grate the pecorino romano. In a small bowl, grind up the peppercorns to a very fine consistency. Set 1 1/2 teaspoons aside.
Once the water is boiling, add the spaghetti — but only cook it for half the amount of time it says on the package. Meanwhile, toast the 1 1/2 teaspoons of peppercorn in a saucepan over medium heat for one minute. Be careful not to burn it.
Add a ladle of pasta water to the toasted peppercorn. Then, add the spaghetti to the saucepan and allow it to finish cooking over medium heat (this is called "risottare"). Every few seconds, move the noodles around with a pair of tongs and shake the pan, adding more of the pasta water as needed.
Meanwhile, mix together the grated pecorino romano and half a ladle of water with a fork until it has a paste consistency. Set aside.
When the spaghetti is al dente, remove from heat. Allow it to sit for 30 seconds. Then add the pecorino romano mixture and incorporate with tongs, using fast movements so it melts in with the noodles and starchy liquid. It should be a creamy consistency with no clumps of cheese.
Serve on a plate, top with more fresh pepper (and cheese) if desired, and enjoy!
Information
Category

Pasta, Main Dishes

Cuisine

Italian

Yield

2 servings

Prep Time

10 minutes

Cook Time

15 minutes

Total Time

24 minutes, 59 seconds