Mullein, Lavender, & Mint Smoking Blend
Dani Solorio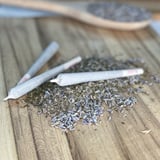 Ingredients
½ ounce dried mullein leaf or flowers
½ ounce dried lavender flowers
½ ounce dried mint leaves
Directions
On a clean tray or plate, mix equal amounts of each herb, until they're nicely blended together.
Once the blend is mixed, store it in a glass jar in a dark place to maintain freshness.
If using a water pipe, smoke up to 1 gram daily to help clear your lungs and air passages of debris.
If using paper to smoke your herbal blend, use organic wraps to avoid further lung contamination. 1-2 pre-rolls daily is the recommended dose.
Information
Yield

10 herbal pre-rolls