Extra Crispy Fried Pickles
Original Recipe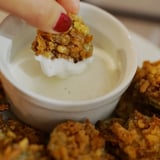 Ingredients
1 jar (16 oz.) dill pickle chips
1 egg, beaten
2 cups (6 oz. package) crispy fried onions
1/4 cup all-purpose flour
1/2 teaspoon cayenne powder
1/2 teaspoon paprika
1/2 teaspoon garlic powder
Directions
Pat the pickle slices dry with paper towels, or dry them out with a salad spinner.
Measure out flour into a bowl or plate, and season with cayenne powder, paprika, and garlic powder. You won't need salt or onion powder since the crispy fried onions will be enough.
In another bowl, lightly crush up the crispy fried onions to your desired texture.
Dip each pickle in the flour, then the beaten egg, and finally in the onions, making sure it's fully coated.
After battering all the pickles, heat a pot of vegetable oil to 375°F.
Once the oil reaches 375°F, flash-fry the pickles — they won't need any longer than a minute in the oil because the onion layer is technically already fried. If you're worried about burning your pickles, an air fryer also works great. Just spray the pickles with cooking spray, then air-fry them at 375°F for 5-10 minutes.
Let the fried pickles sit on a wire rack until they're cool and the excess oil has dripped off. Serve with some homemade ranch dressing [1] and enjoy!
Information
Category

Appetizers

Yield

30 fried pickles

Prep Time

30 minutes

Cook Time

10 minutes

Total Time

39 minutes, 59 seconds