Braided Cinnamon-Roll Loaf
TikTok user @frederikkewaerens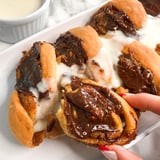 Ingredients
Dough:
6 tablespoons active dry yeast
2 cups, plus 2 tablespoons, warm milk
3/4 cup granulated sugar
1 teaspoon ground cardamom
1 teaspoon salt
2/3 cup butter, softened
5 cups all-purpose flour
1 egg for egg wash, beaten
Filling:
1 cup, plus 2 tablespoons, butter, softened
4 tablespoons cinnamon
1/4 cup, plus 2 tablespoons, granulated sugar
3/4 cup brown sugar, packed
2 tablespoons flour
Simple Syrup:
3 tablespoons, plus 1 teaspoon, water
3 tablespoons, plus 2 teaspoons, granulated sugar
Cream-Cheese Icing:
1/4 cup cream cheese, softened
1 cup powdered sugar
1/2 teaspoon vanilla extract
2-3 tablespoons milk
Directions
In a large mixing bowl, combine the lukewarm milk and active dry yeast to make the dough. While the milk is still warm, add in the sugar, cardamom, salt, and half of the flour called for in the dough, then knead with a dough hook for a few minutes.
After a few minutes of kneading, add the butter to the milk and yeast mixture, then add the remaining flour and knead for 5-10 more minutes, or until the dough releases from the sides of the bowl and becomes elastic.
Let the dough rise in the bowl for 1 hour under a damp dish towel.
While the dough is resting, combine all the ingredients needed to make the filling in a medium-size bowl, then set aside.
Make the simple syrup by boiling the water until the sugar has dissolved, then let cool.
After an hour of resting, divide the dough into two equal pieces, and roll each one out into a 15x15-inch square.
Carefully spread the cinnamon mixture from corner to corner of each dough square so all of the pastry is entirely covered, then roll each square into a log or a long sausage (just like you would for classic cinnamon rolls). Place the logs on 1-2 baking sheets lined with parchment paper.
Snip a notch at the start of one dough log, and pull the snipped part out to one side. Snip again about 1 inch away, and pull the cut part out to the other side. Continue all the way down both dough rolls in an alternating pattern so the snipped "swirls" lie alternately on each side.
Cover the loaves, and let them rise for about 30 minutes at room temperature.
After 30 minutes have passed, preheat the oven to 400°F.
Brush the loaves with egg wash, then bake them on the middle rack of your preheated oven for 25-30 minutes, or until golden and baked through. Cover the loaves with aluminum foil halfway through baking so the bread doesn't get too dark.
Once the loaves are thoroughly baked through, remove them from the oven and coat them with simple syrup using a silicone brush.
While the loaves are cooling, make the cream-cheese icing by combining the cream cheese, powdered sugar, vanilla extract, salt, and milk, then pour over the loaves before slicing and enjoying.
Information
Category

Desserts

Yield

Two loaves

Prep Time

2 hours

Cook Time

30 minutes

Total Time

2 hours, 29 minutes, 59 seconds