Build-Your-Own Burger Spread
Original Recipe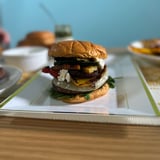 Ingredients
1/2 teaspoon Stonemill Peppercorn [1]
1 teaspoon Stonemill Sea Salt [2]
1 tablespoon Simply Nature Organic Extra Virgin Olive Oil [3], divided
1 Large red onion [4], sliced into four thick pieces
4 Bell peppers [5], quartered
4 Zucchini [6], halved lengthwise
4 Slices of fresh pineapple [7]
1 Box of Simply Nature Organic Arugula + Spinach Mix [8]
4 Slices Happy Farms Deli-Sliced Provolone Cheese [9]
1 Package Emporium Selection Plain Goat cheese [10]
1 ½ Pounds Grass Fed Ground Beef Patties [11]
4 Specially Selected Brioche Rolls [12]
1 Bottle of Burman's Hickory & Brown Sugar Barbecue Sauce [13]
1 Jar of Priano Genovese Pesto [14]
1 Container of Park Street Deli Atomic Pickle Chips [15]
Directions
With quality patties, you don't need to get too wild (yet). Season each burger patty with salt and pepper, then grill for 4 minutes per side.
While the burgers cook, grab 3 to 4 veggies that guests can stack, snack, and build their plates with, like red onion, bell peppers, and zucchini. Brush with oil and set on the grill.
Prep any additional ingredients (and go outside the box!). Swap regular lettuce for arugula and spinach, try provolone instead of cheddar, and slice up hot pickles vs. regular old dill.
Grab a large serving plate and start assembling! Don't forget condiments, and pick a few that go with your other flavor choices (like pesto with grilled peppers and provolone). Arrange all of those ingredients, plus fresh pineapple and several sauce options, on a serving platter alongside brioche buns.
Once the burgers and grilled vegetables are cooked, add them to the platter and let your guests build their own burgers.
Information
Category

Main Dishes

Yield

4 servings