2010 Herding Group Winners at Westminster
2010 Westminster Winners: Herding Group
Herding dogs can be tricky to own since natural instincts may cause them to try to herd your human family up! This group saw a familiar face — the same breed we remembered from past Super Bowl commercials and the same dog that won the Herding Group in 2009.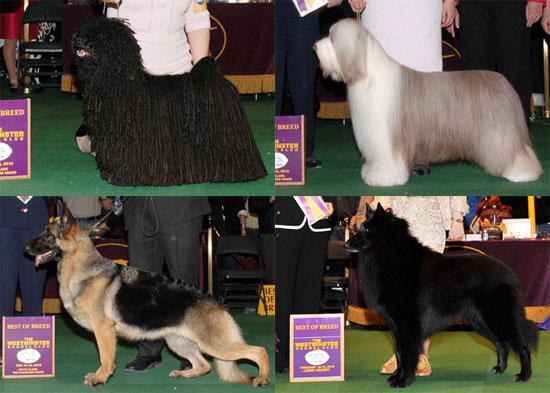 Find out if the Puli comes out on top when you
.

It was "Conrad" the Puli for the second time at MSG. (Trivia fact: He's the first Herding dog to win his group two years running since 2001.)


Finishing up this group were:
Puli: Ch Cordmaker Field Of Dreams. Male born Mar. 30, 2004.
Belgian Sheepdog: Ch Uri De Beauvoir. Male born Apr. 7, 2005.
Bearded Collie: Ch Tolkien Raintree Mister Baggins. Male born Oct. 30, 2004.
German Shepherd: Ch Kridler's Nutmeg V Signature. Female born Feb. 17, 2007.

Source: Westminster Kennel Club