2010 Terrier Group Winners at Westminster
2010 Westminster Winners: Terrier Group
As the most hyped up set of the night — no wonder since they've won the most Best in Shows out of any of the seven groups — the Terriers were the final to take to the green carpet. Whispers, rumors and even Vegas bets had Sadie as the strong favorite but could the Scottie pull it off?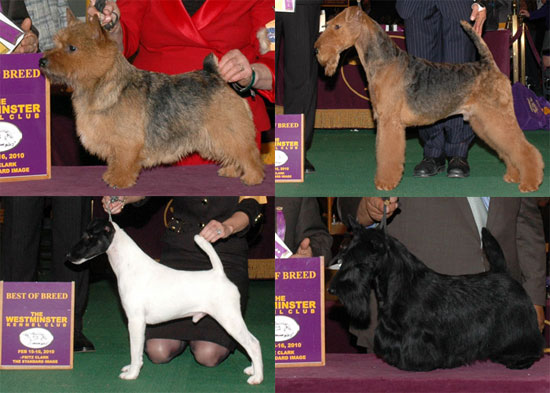 Above you'll find the four finalists so learn the actual winner and
.
It was Sadie the Scottish Terrier after all!


Completing the rankings for this group were:
Scottish Terrier: Ch Roundtown Mercedes Of Maryscot. Female born Apr, 02, 2005.
Smooth Fox Terrier: Ch J'cobe Kemosabe Vigilante Justice. Male born Mar. 22, 2007.
Norwich Terrier: Ch Skyscot's Poker Chip. Male born June 17, 2006.
Airedale Terrier: Ch Stirling Cool Hand Luke. Male born May 04, 2005.

Source: Westminster Kennel Club