The AKC/Eukanuba National Champion Is...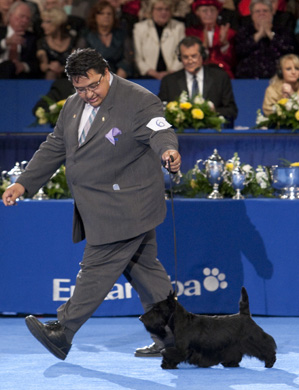 Do you recognize this furry face? It's Sadie, the Scottie that won the 2009 National Dog Show on Thanksgiving. As it turns out, this terrier also captured Best in Show at the AKC/Eukanuba Dog Show that aired on Animal Planet on Feb. 6, making her the latest champion.
As she's quite the favorite already, many believe she'll go on to capture the big win at Westminster next week as well. After all, she was a group finalist in 2009 — remember her lil piddle here — so she's surely one to watch.
Learn which other pups rounded out the semifinalists (There was a smooshy!) and see one more picture of Sadie when you read more.

Best in Show Finalists and Group Winners


Sporting: Irish Setter (Emily)
Terrier: Scottish Terrier (Sadie)
Hound: Greyhound (Era)
Working: Boxer (Bosco)
Toy: Toy Poodle (Walker)
Non-sporting: Standard Poodle (Jetta)
Herding: Rough Collie (Sax)
Miscellaneous: Xoloitzcuintli (Tenango)

Source: Animal Planet