All-Natural Pet Stain Cleaning Tip
No Nature's Miracle? Try This All-Natural Method Instead
I can't rave enough about the wonders of Nature's Miracle when potty training or cleaning pup's playthings. However, truthfully, I haven't stocked a bottle since my pet was a wee babe since he's got the peeing thing down pat. However, many dogs can have a repeat problem with stuff coming out the other end.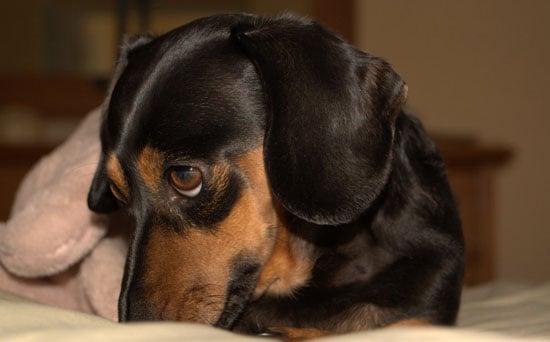 Yesterday morning, my poor pooch threw up on his bed and then hid in my bedroom, looking as embarrassed as this doxie. Since I didn't want to deal with laundry right before rushing to work, but also didn't want to let the stain (and smell) set in, I went into my kitchen and grabbed two staples.
Find out what they are and what I did when you read more.

Instead of tap water, I scrubbed the area with a small amount of club soda and let it dry while taking a shower. When I got out, I sprinkled the spot with baking soda and headed to work, crating my pup. When I got home, I used my handy Dyson Animal to immediately vacuum up all the excess powder before letting North back in. Good as new and stink-free, too.
Source: Flickr User TheWellSpokenOne