Birdhouse Works As a Dog Bark Deterrent
Bark Deterrent Disguised as Birdhouse: Brilliant or Baffling?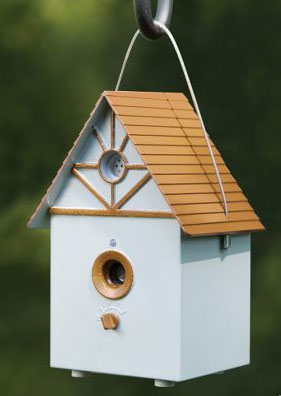 Aww, feeding birds is so sweet, right? Well, perhaps if this was an actual house meant for fluttery friends. Instead this
Ultrasonic Barking Dog Deterrent ($70), can be hung on any tree and emits a "harmless ultrasonic tone, inaudible to humans, that startles the animal into silence." No birds here, it's for the dogs.
Now as someone who's been kept awake by (someone else's dog) barking, I get it. Barking is annoying. However, this doesn't strike me as a solution for a pet owner, it seems like something for a neighbor who hates barking but doesn't want to be confrontational. What's your opinion about this cleverly masked product?