Corn Costume For Dogs
Don't Forget the Corn For Your Labor Day BBQ!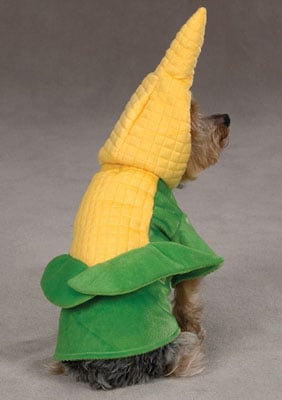 Are you attending a cookout this holiday weekend? While it's key to distance pooches from a hot grill, and monitor that corn intake to keep away cobs, the hot dogs could always use a lil ketchup and mustard, right?
Well, in addition to those cool condiment costumes I spotted last Summer, here's another way to make a pup's presence known as he brings the corn . . . literally. Coming in five sizes for $20 a cob, the soft kernel top has a strap to stay atop his head while the back husk has a leash hole to parade him all over the party, too. Since I couldn't resist a second helping, see one more puppy pic and
.