Dangerous Winter Activities For Dogs
To the Rescue: 3 Dangerous Outdoor Activities For Pets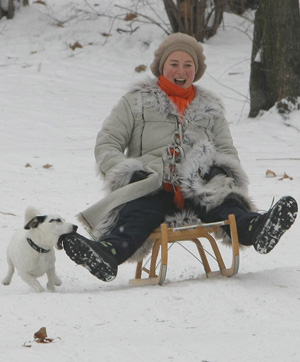 Winter walks are the norm — unless your pooches use indoor potties — but remember that bitter temps require shorter trips and closer attention to his body temperature. It's actually extra risky to let a pooch off leash on snow or ice because they can lose their scent and easily become disoriented, especially during the storm itself. Check out three activities that may pose a problem.


Sledding: Most people won't take a dog on a sledding adventure — it requires solid sit-stay skills in chilly weather and it's just not fun for the animals. However, also be careful if your off-leash walks pass by a sledding area. Dogs can confuse flying sleds with something OK to chase, but the dangerous part comes from the sledder's difficulty stopping if a dog decides to run in front.
Get the rest when you
.
Snowmobiling: Another danger in some areas, be careful of snowmobiles crossing streets and stay away from their approved paths in the woods.
Ice Skating: Frozen ponds and lakes can be fun for skating, but not all surfaces are tested for solidity. Your dog's exploration may accidentally land him on thin ice. Literally.