Dog Barking License Photo ID Wallet Card: Spoiled Sweet or Spoiled Rotten?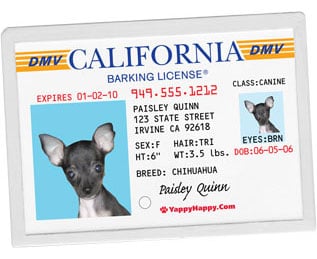 Can I see some identification, please? If your pooch is prone to being carded, this Dog Barking License ($20) solves the problem.
Filled out with his description and your contact info, the standard credit card size allows it to fit right in his your wallet "in case of emergency." Not sure what that scenario would be but, on the upside, the ID doesn't require a trip to the DMV. Will you be a card-carrying member of this clique?