Dog Knows Over 1,000 Words
Could This Be the Smartest Dog Ever?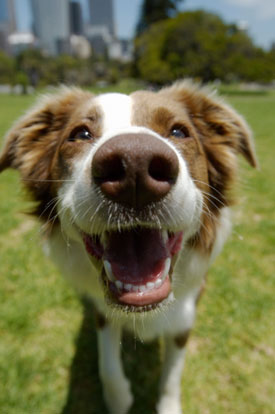 Seven-year-old Chaser, a Border Collie in North Carolina, knows how to sit, stay, and fetch. Big deal, right? Until you hear this: she can also recognize and respond to over 1,000 other words.
Chaser's owner, John Pilley, is a college professor — with a ton of patience. After hearing of another pup who'd been taught over 200 words by his master, Pilley decided he could do better, so he set to work training Chaser when she was still a puppy. After years of learning one or two new words a day, Chaser can now recognize hundreds of toys by name (that pooch must have some toy box!). She can also correctly follow commands like "Fetch a ball" and "Fetch a Frisbee."
Next up, Pilley's going to attempt to teach Chaser basic grammar. Does this inspire you to expand your pet's vocab?