Eco Dog's Great Herbal Flea Powder Recipe
On the Ball: Make Eco Dog's Eco-tastic Herbal Flea Powder When I first welcomed North into my family, I knew that I wanted him to have the healthiest lifestyle possible. Whenever I can, I make his food and treats from scratch, read all the labels on his shampoos, and try not to use too many chemicals around the house. So when I saw Eco Dog at my local bookstore over the weekend, I snatched it up pretty quickly! Packed with herbal remedies to common pet problems, recipes for a yummy looking meatloaf that I'm definitely going to treat him to, and some cool DIY projects for you to make your pet's environment as fresh and clean as you can, this book was well worth the $16 price tag, and I highly recommend it. Not surprisingly, I read through the whole thing in one sitting! The info is easy to understand and makes quite a lot of sense once you think about what is in those big name products like flea collars and kibble.
One of my fave DIY projects from the book is a natural flea repellent powder that's insanely easy to make and good to keep on hand. One of the points Eco Dog tries to make is if a bunch of chemicals is supposed to kill fleas, and warns against humans coming into contact with it, how healthy can it be for your pet!? I totally get it! To see the simple flea powder recipe, just
.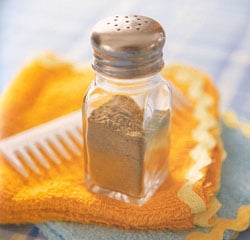 Herbal Flea Powder
From the Book Eco Dog by Corbett Marshall and Jim Deskevich.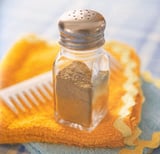 Ingredients
Powdered Herbs:
Eucalyptus
Rosemary
Lavender
Fennel
Yellow dock
Pennyroyal
Directions
Combine as many of the powdered herbs as you can find.
Mix together equal parts of each herb in a shaker top jar
Brush your pet's coat backward with your hand or a comb while sprinkling the powder onto the base of the hairs. Apply sparingly, paying special attention to the neck, back, and belly.
Put your pet outside for awhile afterward, so his pests escape in your yard, not your carpet
Information
Category

Pet Treats, Other