 Chickadee is one of my favorite words to say. Chickadee, chickadee, chickadee! So I know these birds (along with woodpeckers, goldfinches, thrushes, bluebirds, and wrens) like peanut butter suet . . . the problem, what in the heck is suet?! After consulting a dear friend (read: google), I learned that it's raw beef or sheep fat. I eat neither beef, nor sheep, so I was at a standstill about where to find such a thing – and whether or not I'd even want to touch it.
Imagine my delight when I found a recipe for peanut butter suet – sounds a lot less scary, and OMG, I've got tons of PB. To see how to make this treat in plastic containers, little balls, or even rolled in wire mesh for birds to come pecking,
.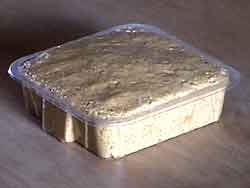 Peanut Butter (Suet) Cakes
Ingredients
1-36-oz. jar all-natural crunchy peanut butter (without "partially hydrogenated oil")
1/4 cup maple syrup
1 3/4 cups corn meal (medium grind)
1/2 cup sunflower chips
1/4 cup chopped dried fruit (optional)
Directions
Using a mixer, thoroughly blend the peanut butter and maple syrup. Add the corn meal and blend well. Adjust the amount of corn meal so you can knead in the sunflower chips without the mixture sticking to your hands. The mixture should be shiny and tacky and resemble bread dough.
Divide mixture evenly into three portions. Press mixture firmly into three plastic 4 ¼" x 4 ¼" x 1 ¼" containers or press the mixture onto a screened peanut butter log.
Storage: Cover containers with foil and freeze until ready for use. You can also make peanut butter balls by rolling teaspoons of the mixture into balls and freeze them. They make great treats for your special birds.
Information
Category

Pet Treats, Bird Food