Football Games For Dogs
Take a Hike With Three Doggie Football Drills
I enjoy football but I'm no expert on the moves. However, since North loves his Orbee-Tuff pigskin, I researched some fundamental drills for youth (human youth, that is) and adapted them for furry friends instead.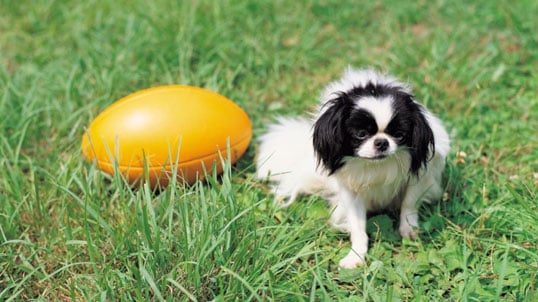 Both Knees Drill Its purpose (for people) is to warm up arms, but getting down on both knees helps you get on doggie eye level. You'll be the quarterback, and pooch is the receiver — pick a target (near him but not at him!), throw, and see how close you get . . . and how quickly he grabs the ball. Don't worry, there's no dead ball rule when it hits the ground for animals.
Circle Toss Practice throwing on the run by running in a circle while playing catch. This lets a pup get extra exercise by having to both chase you and pay attention to the ball — and where it lands — at the same time.
Get the games started with one more suggestion, and a widget full of football toys, when you
.
Receiver Concentration This game requires four people and one pooch. To make it fair for dogs, three humans kneel in an equal triangle formation (instead of standing) with about five feet between each other. The fourth tosses the ball gently and slowly in the middle of the triangle, and the trick's to see who can grab it first, person or pet.