Fun Facts About the 11 Triple Crown Horse Racing Winners
Crowning Glory: The 11 Winners of Horse Racing's Triple Crown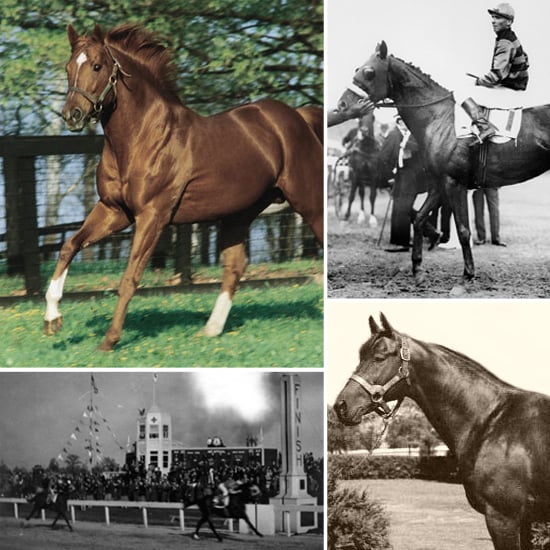 At Saturday's Belmont Stakes, Kentucky Derby and Preakness Stakes winner I'll Have Another will give it the old college try in an effort to accomplish what only 11 other horses have done in 137 years: win horse racing's elusive Triple Crown. In fact, it has been 34 years since a horse has accomplished this feat.
If I'll Have Another partakes in another exciting win this Saturday, then he will join the ranks of the greatest horses in racing history, including Secretariat, whose record Belmont Stakes finish of 2:24 still stands to this day. Good luck to the chestnut colt and his 10 competitors, and here's to a safe and fair race! For some fun facts about the Triple Crown winners, just read on.
Sir Barton (1919): After failing to win a single race as a 2-year-old, Sir Barton became the first horse to achieve the coveted Triple Crown at 3. Ironically, his owner had originally intended Sir Barton to wear out the rest of the field so that his stablemate, Billy Kelly, could win!
Gallant Fox (1930): Gallant Fox became known popularly as "the red-headed horse" thanks to the red mask he wore while racing.
Omaha (1935): Son of the previous Triple Crown winner Gallant Fox, Omaha was born in Kentucky but spent his later years living on a farm just outside his namesake city, Omaha, NE.
War Admiral (1937): The son of the great racehorse Man o' War, War Admiral was often compared to another famous horse of his time: Seabiscuit. The two colts competed only once in a match race at Pimlico in Maryland where Seabiscuit ended up prevailing, beating War Admiral by four lengths.
Whirlaway (1941): In order to break the colt of his habit of drifting outward during the latter part of races, Whirlaway's trainer tried an interesting tactic. First, he fitted the horse with blinkers over the right eye that gave the colt a very small field of vision. Then during a workout, he stood 10 feet from the rail and asked the jockey to run through that small space. Whirlaway spotted his trainer, galloped straight through the 10-foot gap, and proceeded to win the Triple Crown!
Count Fleet (1943): Owned by the wife of John D. Hertz, the founder of Hertz rental cars, Count Fleet was undefeated as a 3-year-old, winning the Preakness by eight lengths and the Belmont by 25. He was voted Horse of the Year with an unprecedented 135 of 143 votes.
Assault (1946): When he was young, Assault injured his foot, leaving him with a permanently deformed front right hoof. But this handicap didn't seem to affect him during racing, and Assault went on to win the Triple Crown and Horse of the Year honors in 1946.
Citation (1948): The bay colt bred by storied Calumet Farms in Lexington, KY, Citation is among only three horses to win 16 or more consecutive races. He was the first racehorse to break $1 million in earnings when he did so in 1951 at age 6.
Secretariat (1973): The large chestnut colt's nickname "Big Red" was the same name given to the great Man o' War, who was similar in appearance. Secretariat beat his arch rival Sham in all three Triple Crown races, winning the Kentucky Derby and Belmont in record times that still stand today.
Seattle Slew (1977): Named for the sloughs in his owner's native Washington State, Seattle Slew was born in Lexington, KY. He became the only horse to win the Triple Crown while still undefeated.
Affirmed (1978): Affirmed staved off his rival Alydar in all three Triple Crown races in 1978 and beat the spectacular 3-year-old Spectacular Bid in 1979 (who went on to be undefeated in the rest of his career). Affirmed and Seattle Slew hold the distinction of being the only two Triple Crown winners to face each other in a race, competing in both the 1978 Marlboro Cup Invitational Handicap and the Jockey Club Gold Cup with Affirmed winning the first and losing the second due to a slipped saddle.
Source: Claiborne Farm and WikiMedia Commons