Healthy Low-Fat Organic Dog Treats
Beg For It: Low-Fat Organic Dog Biscuits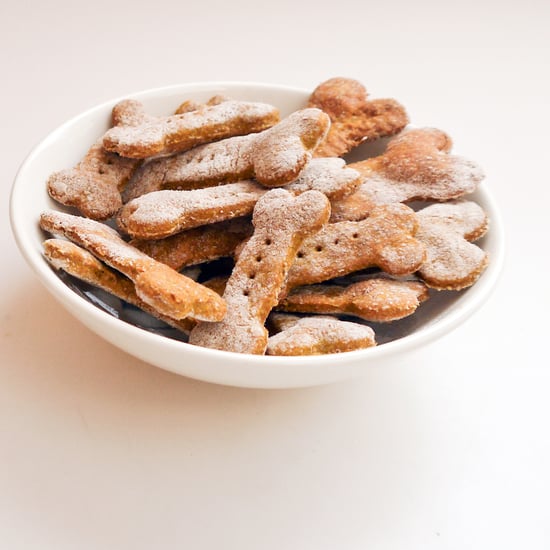 Keep your pup in great shape with these healthy low-fat dog biscuits, which are easier than you think to make. Instead of heading to the store for artisan treats, you can toss these together with simple organic ingredients that only cost a couple of bucks. Plus, you can easily tailor the biscuits to your pup's taste.
Free of sugar, oils, additives, and preservatives, these munchies are just the right thing to keep your loyal friend happy, healthy, and begging for more. Rather than using peanut butter as a base, these healthy low-fat dog biscuits are made with organic pumpkin puree and fresh spinach. Pumpkin is beneficial to your pup's digestive health, full of antioxidants, and aids in keeping your dog at his ideal weight. And spinach is packed with vitamins and iron.
Keep reading for the directions.
Low-Fat Organic Dog Biscuits
From Sarah Lipoff, POPSUGAR Pets
Notes
If your dog isn't a fan of pumpkin, then use steamed or canned organic sweet potato as a base instead.
Ingredients
1/2 cup organic pumpkin puree
1/2 cup fresh organic spinach leaves
1 tablespoon water
2 eggs
1/4 teaspoon salt
2 3/4 cups organic whole wheat flour or breadcrumbs
Directions
Preheat your oven to 350˚F. Place the fresh spinach, pumpkin puree, eggs, salt, and water into a blender and pulse until smooth.
Place the puree in a mixing bowl and add the flour. Using whole wheat gives these biscuits extra crunch and lots of healthy fiber. You can also puree stale whole wheat bread and use the crumbs for making these treats. Now is the perfect time to tailor the recipe to your pup's taste. Add one quarter cup shredded organic carrot for extra sweetness, a dash of cinnamon for a bit of zip, or a teaspoon of freshly chopped parsley, which helps freshen your pup's breath.
Roll the dough until it is one-half-inch thick on a lightly dusted work surface. Use dog bone cookie cutters to create the treats, or keep it simple and roll squares with the help of a pizza cutter. Place the dog biscuits on a parchment-lined baking sheet and prick the centers of each biscuit with the tines of a fork. Bake for 20 minutes. Flip, then bake for an additional 20 minutes.
Remove the dog biscuits from the oven and let cool before tossing to your pup.
Information
Category

Pet Treats, Dog Food

Cuisine

North American