How to Deal With Your Pets Fighting
Would You Break Up a Cat-Dog Fight With a Chain Lock?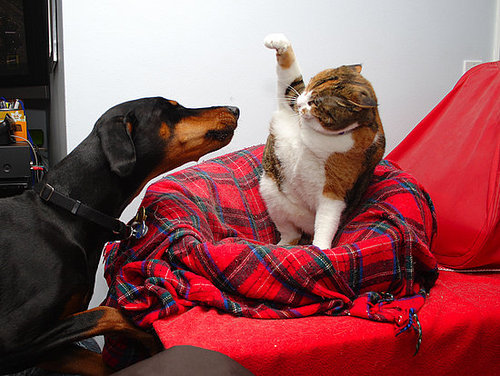 A co-worker of mine recently shared an idea of how she breaks up her cat and dog when the play fighting turns blood-drawing, head-in-mouth real. She lives in a flat with roommates, and while the humans are away, the pets play. Poor kitty needed a break from the boisterous Labrador but was finding it hard to hide. The solution? My co-worker drilled a chain door lock on the outside of her bedroom door. When she leaves for work, she keeps the door open but latches the lock, and voila, an opening just wide enough for the cat to squeeze in and claim sanctuary until she is ready to be friends again.
Would you try it, and if not, how do you break up fights between your pets? Share in the comments!
Source: Flickr User Greencolander