Just because your pet eats it, doesn't mean he's hungry, as science doesn't show that dogs "feel full" as humans do! Gobbling up food can cause a pooch to become overweight or, worse, develop a case of bloat. I've gathered up five solutions for better weight management so settle in and read on.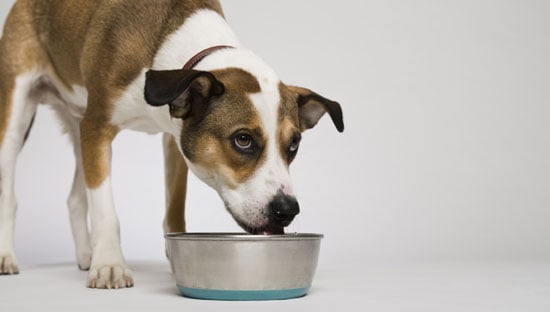 Know the signs: While you usually have a clue if you have an overweight pet, key features to look for are a rounded belly or any bulging in the back area. If you foresee a growing problem (literally) on your hands, pay special attention to these areas for any changes first.
Try two-a-days: Many vets recommend feeding a cat or dog at least twice a day for longer lasting energy and less hunger. Remember, after checking with the label on the packaging for portion guidelines based on your pet's weight, divide the total amount by the number of meals you offer.
Say time's up: Although my pup scarfs down all his food in seconds, you should remove any unfinished portions after 20 minutes to prevent your own pet from overeating from the trough if he ever slows down.
See two more and
.
Get fun and fit: Once you ID the problem, then it's time to find the solution. Check with your vet about weight-loss and fitness regimes or check out my fun outdoor activity ideas.
Set treat high alerts: An easy first step is to limit those treats! Consider it like the difference between you eating a slice of pizza . . . and a whole pizza. If the doggie treat is large, break it up to make several different rewards instead of feeding all at once. Or, when training a pet, considering rewarding with a piece of pet food instead.