How to Keep Your Dog Cool in Summer
4 Icy Cool Ideas For Hot Summer Days and Nights
It's amazing what a little frozen water can do! Whether your pup spends hours frolicking outside or scampers indoors most of the day, make sure there's a cool spot to rest and cold liquids to sip during the warmer months.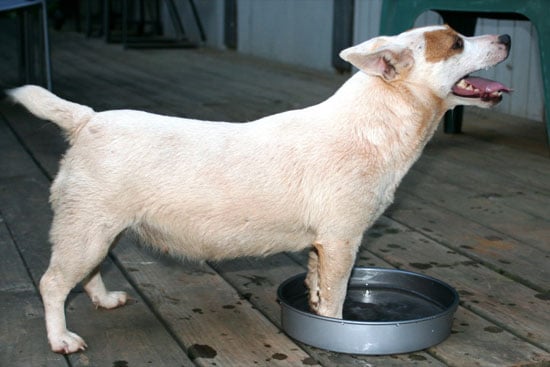 If your pet's confined to a crate, I strongly recommend you make sure there's A/C or a fan nearby at all times and try placing a reusable ice pack under his crate pad. Because dogs are tempted to taste, I would shy away from the artificial ones for human injuries and DIY with resealable plastic bags instead.
To do this, take two gallon-sized Ziploc Freezer Bags, fill one about 80 percent with water, zip up, put it inside the second, and lay flat to freeze. Double-bagging protects against accidental puncturing and worked perfectly for my pup. If there's no limit to your budget, however, try the official On-Ice Bags favored to keep show dogs cool when they're not in the ring, starting at $50.
See a couple more tips for icy drinks when you read more.
Many pups love to chase ice cubes around the bowl with their tongues, and adding these (flavored or not) to water can keep pets cool in the heat of the day. If you want to offer up long-lasting coolness, buy an extra stainless-steel bowl. In addition to a normal water dish, freeze the second bowl 80 percent full of water to make an ice block. Leave both dishes on a pet's placemat so, as the day goes on, he'll have this choice of chilly water to drink.
Source: Flickr User Waldo Jaquith