How Much Water Does My Dog Need
Ounces For Pounds: A Simple Equation When Offering Water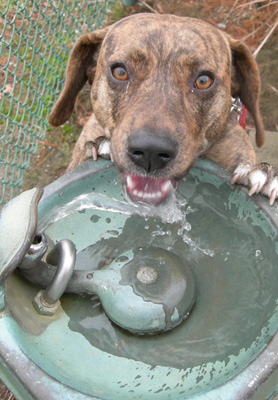 While your dog's sip sips may seem more like gobble gobbles, it's important that your animal slurps a constant supply of fresh, clean water. Since about 60 to 80 percent of pets' bodies are made up of water, fluids are key to bodily functions at all times.
Whether you leave it out or only offer water at set times a day, pay attention to how much liquid is left to make sure your pets are getting enough. Learn an easy calculation to complete before filling the dish and read more.
While summertime may result in more water breaks, most pets need about one ounce of water per day for every pound they weigh, so a 16-pound pet needs about a pint of water, 32-pound pooch a quart, and so on. While you can lead a horse dog to water, you can't make him drink, so keep track of that intake so it's close to the proper amount and the dish is never empty!
Source: Flickr User thetorpedodog