How to Read Dog and Cat Food Labels
Summer Shape-Up, Part 3: Read the Label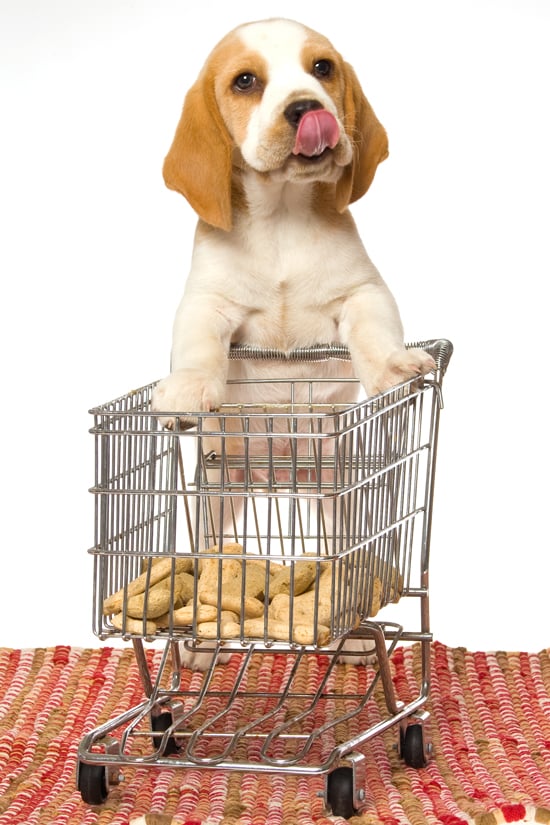 Reading the nutritional analysis of packaged foods for humans is complicated enough, so attempting to comprehend the label on pet food can be like learning to speak cat. But if your pet is overweight, it's one of the more important steps to getting her weight back in line. After taking the time to determine your pet's ideal weight and calculate her daily caloric intake, you can easily foil any shape-up efforts by misreading the nutritional information behind her food.
Pet food labels are regulated at both the federal and state level, with the latter varying in stringency from state to state. At the federal level, pet food packaging is required to include proper identification of the product, a net quantity statement (how much food material is included in the package), the manufacturer's name and address, and a listing of ingredients in order from highest to lowest volume. States also may require a guaranteed nutritional analysis, feeding directions, and a calorie statement. These variations from the federal to state level result in differences between the information stated from brand to brand, so today we're outlining the key areas to pay attention to while scanning the cans in the pet food aisle to help your pet in the great Summer slim-down. For our tips, just keep reading.
Calorie Statement
Just as we count calories to ensure we're not taking in more than we can burn, we must also take note of how many calories our pets consume. Most pet food labels state the calorie count in terms of kilocalories per kilogram, and some more helpful labels will reflect it in quantities that people actually use, like kilocalories per cup. My dog's ideal weight is 15 pounds, so using our trusty formula tells me that she should be ingesting about 270 kcal/day. If her food contains 360 kcal/cup, then she needs to eat 3/4 cup each day (assuming I don't give her any treats!) to reach her ideal weight.
Guaranteed Analysis
At a minimum, most pet food labels will provide the percentages of crude protein, crude fat, crude fiber, and moisture, but many brands voluntarily include much more information. For pets on a diet, the fat percentage is very important, so when comparing brands, look for formulas that contain lower levels. Also note that the percentages provided for crude protein and crude fat are minimums while the percentages for crude fiber and moisture are maximums, so the food may contain more protein and fat and less fiber and moisture than is listed.
List of Ingredients
As most food labels list ingredients in order of volume, reading them thoroughly is a great way to understand exactly what's going into your precious pet's body. Look for ingredients like real meat, whole grains, and vegetables, which pack more of a nutritional punch than fillers like corn and animal by-products. While the first 10 ingredients listed typically account for 80 percent of the food's composition, some brands will spread out less healthy ingredients in different forms so that they won't appear at the beginning of the list. Therefore, watch out for terms like "ground corn," "corn gluten," and "corn bran" since combined it could mean that the total volume of corn outweighs the healthier ingredients. Of course, a fresh meat item at the beginning of the list isn't always what it seems since fresh meats are 75 percent water, and without that water the meat volume would actually be much lower. Make sure that the first 10 ingredients also include meat meals which have more concentrated animal proteins.
Feeding Directions
Be wary of the feeding directions provided on the package. Most contain wording such as "feed ___ cups per ___ pounds of body weight daily," which could be accurate, but it's certainly not tailored to the individual needs of your cat or dog and doesn't account for the treats you give her for a job well done. A better practice would be to determine the nutritional needs of your pet with the help of her regular vet in order to calculate how much she should consume in total in a given day.