How to Safely Pick Up a Cat
To the Rescue: How to Safely Pick Up a Cat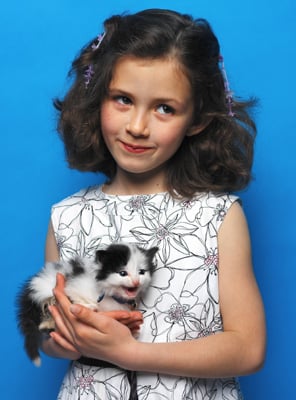 As often as you see mama cats carrying kittens by the scruff of the neck, this is not a safe way to hold a grown cat — even lightweight felines are too heavy to be supported properly by just that excess, loose skin. However, you may still see your vet use this technique (with another hand under the rear), since it causes the cat to go limp long enough to lift her on the table or slip a med.
So what's the best way to approach and pick up a kitty pal? Find out when you
.

Side step: Most cats don't like to be approached from the front and may lash out (since your friendly gesture could be interpreted as a front-on assault), so saddle up to the kit from the side.
Opposites in: Use the hand furthest from the feline to reach under the "armpit" section of the front legs and lift up.
Support scoop: As you lift, put your free hand under your cat's hind legs to support her bottom half.
Don't force it: If your cat struggles or squirms, put her down — she may have other plans on her agenda.
Do your cats like to be held?