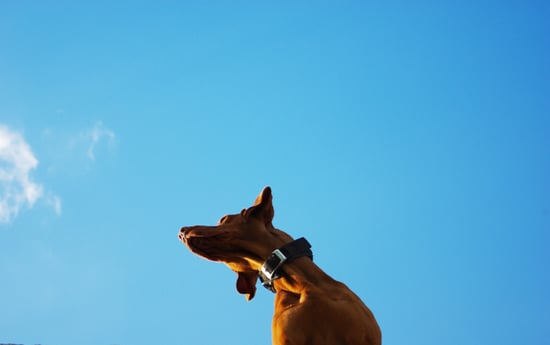 The hot weather comes with hot dangers for your dog. Whether it's sunburn, sidewalk burn, or even hot food from the grill, keep your dog on a short leash when it comes to all things scorching.
1. Sunburn
You've been so careful to slather on the sun protection this Summer, but don't forget about your dog. Just like humans, dogs are susceptible to sunburn and even skin cancer. If you're going to spend all day on the beach together, take these precautions and look out for some symptoms that might signal sunburn on your dog.
Protection: Luckily, there are sunscreens for dogs that make preventing sunburn easy. Try an all-natural lotion like GNC Pets ($12) to protect your doggie's skin before your next sunny outing.
Symptoms: Some symptoms that show your dog might be sunburned include redness of the nose, ears, or tummy, dry, cracked, or curling ears, and constant scratching and whimpering. If you witness any of these signs, call your vet immediately.
Home Remedies: If your dog's sunburn is minor and hospitalization is not required, whip up some home treatments to soothe your dog's discomfort. Aloe vera and witch hazel are both great for sunburn relief; just gently rub or dab onto the affected areas. Vitamin E is great for preventing scarring, and herbal moisturizers like this SheaPet option ($16) are great for rehydrating your dog's skin.
Keep reading to learn how to protect your dog against other burn risks.
2. Sidewalk Burn
If your dog is walking as if in pain, incessantly licking his paws, or you spot any cracking or blistering on the pads, he could have a minor burn. It's easy to forget about the hot sidewalk or sand when we're wearing shoes, but our pups' paws are unprotected and can be easily burned.
If such a burn occurs, apply a cool, wet compress to soothe his paws or submerge them in a cold water bath. Clean the wound with mild soap to kill any infection, then cover with a pet-safe burn ointment or spray — yet another use for aloe and witch hazel — and wrap with gauze. Make sure to change the gauze often, keep the burn clean, and reapply the healing ointment.
3. Hot Grill
Don't leave your grills (or pets) unsupervised at any outdoor parties. Keep some extra sticks and balls around to distract him from hovering around the BBQ and your piping hot food. If possible, close off the area where you'll be grilling, so your dog can run freely without worry of coming in contact with anything that burns. If your speedy pup is able to grab something off of a plate or gets too close to the grill, you should have a plan, and supplies, to treat paw burns. This first aid kit ($18) is a great option because it includes an antiseptic, liquid bandage spray, sterile eyewash, nonstick pad, and gauze roll for any kind of minor emergency.