Jesse Freidin Halloween Costume Tips For Dogs
Snap to It! Halloween Costume Tips From a Pro Pet Photographer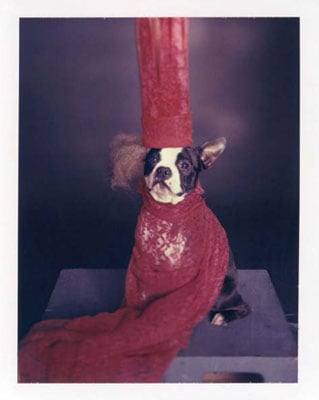 Since we currently have a costume challenge in our community, what better time to gather picture taking tips than before the big day? Photographer Jesse Freidin created the wildly popular Doggie Gaga project earlier this year — that's his cute Boston Terrier, Pancake — and he offered tips on both costumes choices and creation in addition to photography ideas to share with you.

PetSugar: Halloween costumes already have so much going on, how do I create a setting that limits visual distraction?
Jesse Freidin: If you're going to put your dog in a costume and create a fun photograph showing off the costume and the dog, what you want is for the dog and the costume to really stand out. That's the focus. You want to show off the costume and show off your dog being beautiful so there's not always a need to make your background really busy. What you could do is work with a simple background whether it's putting your dog outside near a wall that's really simple. Then be really thoughtful and have a couple props, maybe there's a pumpkin or maybe there's some leaves. As long as your eyes are really drawn to the focus, which is the dog, that will make your hard work, stand out.
PS: What if I pass by someone else's cute dog on the street? How do I get a good shot?
JF: A good thing to do is get on their level and, before you stick a camera in their face because you're a new person and it's a camera and that can be weird, just let the dogs sniff you and get used to you for a second. Make sure you know their name and call it and hopefully they will look at you. It's always an overstimulating environment to have lots of dogs, lots of people and costumes so keeping everything as calm and simple as possible is the way to get some really great photos.
While Pancake is posing as part of the Doggie Gaga project here, learn what Jesse's cute pup will be for Halloween this year, how to pick out a photo-worthy costume for your pet's coloring, and get an amazing base for any DIY costume when you
.
PS: How can I tell what costume would work best with my dog's coloring?
JF: I think it depends on whether you really want to have the dog blend in or if you want to show that sort of ironic, funny contrast. It's fun to play with your dog's coloring so let's say you have a black lab. Sometimes it's fun to put them in a black spider costume because they blend in really well, that line is blurred, and maybe that's the look you are going for. Sometimes it's fun to go the opposite route and contrast. I have a lobster costume for my dog — it's bright red and it really makes him stand out because his black and white fur stands out against the red and that's a funny shot.
PS: Any plans to dress up your pet this year?
JF: Pancake's costume, we need to finish it, but he is going to be a pet rock, actually. I always make the costumes by hand and for some reason I think conceptual costumes are the funniest. Last year, he was outer space and the year before he was a box of Polaroid film. I just think it's funny to make dogs into inanimate objects. That's just my own weird sense of humor. I always make sure that the costumes are easy for him to wear and as comfortable as possible. Usually what I do is create some sort of harness base and then build something on top of it so he can wear it and walk around. I am going to try and find some light foam, make it rock colored and put moss on it.
PS: That's an amazing idea. So If I wanted to make North a costume, could a store-bought harness work as a good base?
JF: Yes, totally. I've done both, taken one of his walking harnesses and then built on top of that and I've also made my own harness out of a comfortable foam and Velcro. That way it will fit on him and it doesn't feel awkward. My theory in dressing up dogs for Halloween, or any reason, is that they need to be comfortable and they need to know that it's a fun challenge for them and they need to be rewarded. I've been putting my dog in sweatshirts cause he's always cold so he's used to wearing clothes and all the dogs that I've ever photographed in a costume I know are used to wearing clothes and enjoy the challenge of working for me. Using things they already know like a harness or a collar and that's just going to make it easiest to them.

Source: Jesse Freidin