Kristen Bell's Doggie Tub
Do You Have Your Own Puppy Tub? (Kristen Bell Does.)
I'm oohing and ahhing over Kristen Bell's gorgeous puppy tub spotted in the latest issue of Cesar's Way magazine. Created by interior designer Kari Whitman, it appears to be one part bathtub, one part fountain, but all in all, absolutely beautiful. The lowered side makes it easier for a pet to climb in by himself and can provide less strain on your back since you're not hanging over a higher side while bathing. As anyone who's tried to give a pet a scrub in a tub or sink will surely attest, the removable showerhead is a must, too!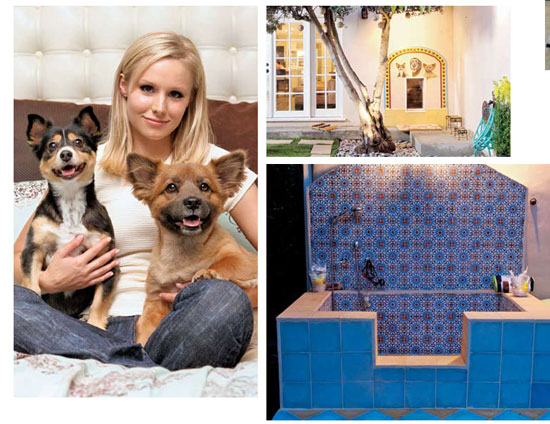 The designer has also helped out celebrity clients like Jessica Alba and Virginia Madsen along with her eco-tastic Greener Pup line with each pet bed containing from 70 to 120 recycled plastic bottles which would've otherwise wound up in a landfill! She emphasizes the need to understand your pets' needs and behavior when planning your décor:
I do it all from carpeting, furniture, and accessories to construction, yard design, and architecture . . . It's only then that you can incorporate design ideas that will leave you with the kind of beauty you need to create.