Lost Feline Locator Homing Tags
Lost Feline Locator: Brilliant or Baffling?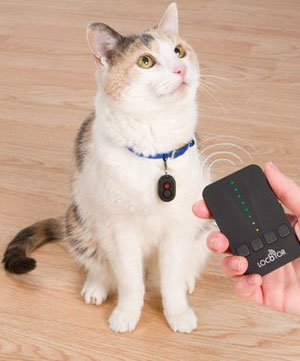 Kitties who enjoy impromptu games of hide-and-seek — when you're it — should be warned. Their feline antics will be foiled if this invention makes it into your home! A combination of a credit card sized handset and signal transmitting tags, the Lost Feline Locator's remote has eight LEDs that light up in succession to guide you in the direction of your cat, even through walls and doors!
While the $100 product comes with two homing tags (with additional tags costing $50 a pop), it's possible to just search for one cat at a time, too. The one disadvantage I can see is that the beeping tone gets louder as you get closer, which could scare the feline further away, but all and all it would work well in a home with many nooks and crannies for all personality types and sneaky kitties.