Merrick Beef Filet Squares Recall
Pet Food Recall: Merrick Beef Filet Squares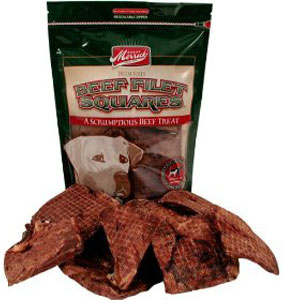 Although we offered a similar advisory back in January, Merrick is now recalling 10 oz. bags of Beef Filet Squares from Lot no. 10084TL7 for a possible Salmonella contamination.
If you still have the resealable package, check for a "Best By 3/24/12" date — those batches may be tainted so return the unused portion to the place of purchase for a full refund. To be on the safe side, if you're not sure when you bought the snacks and they look like this, discard and treat your pooch to something else instead.
Luckily no illnesses have been reported yet — the bacteria was caught in a routine FDA surveillance sampling — but be careful when handling the treats (to discard them), remove anything else they could have contaminated, and thoroughly clean any containers, too.