Misting Fan For Dogs
Portable Misting Fans: Spoiled Sweet or Spoiled Rotten?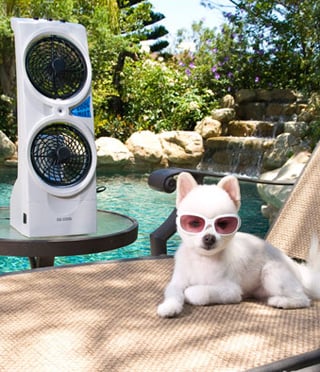 Lucky pup! This cool Pom not only has shades to protect those eyes but a special fan to chill out. The Portable Misting Fans ($60) swivel in different directions with or without splashes, too. After filling up the attached water bottle, it can be set on timers for 10 seconds on / 20 seconds off for two full hours of mister fun.
This fan can go wherever you and your hot dogs travel as it plugs into the wall, the car or runs on batteries alone. Are you wiping tears of joy or shock from your misty eyes?