C-Biscuits (Carrot, Corn and Carob Dog Treats)
PetSugar original [4]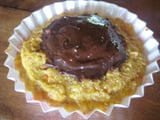 Ingredients
1.5 cups of whole wheat flour
3 large carrots (or about 15 finely chopped baby carrots)
1.5 cups of cornmeal
.5 cup of hot water
.5 cup of nonfat milk
.25 cup of maple syrup
.25 cup of brown sugar
.5 tablespoon of baking powder
.5 cup of carob chips (Note: Chocolate is never recommended for pups, but carob is a great, chocolate-free alternative)
Directions
*Preheat oven to 375 degrees
1. Chop 3 large carrots (or about 15 baby carrots) into tiny easily digestible pieces. If you want to get fancy you can grate or puree in the blender.
2. Combine all the ingredients in a bowl together and mix.
3. Prepare cupcake tin (or cookie tray) and pour batter onto them.
4. Bake for 7-12 minutes (depending on size of cookies).
5. Let the goodies chill for a few minutes, then microwave the .5 cup of carob chips until melted.
6. Spread a little bit of the carob sauce on the top of the treats for that extra touch.
Note: Steps 5 and 6 are optional. The treats are still great without the carob.
Information
Category

Pet Treats, Dog Food