Natural Balance Dog Food Recalled
Natural Balance Recalls Sweet Potato & Chicken Dog Food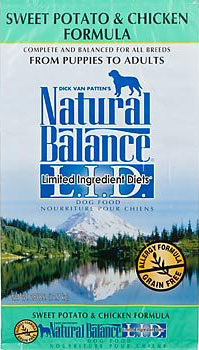 Another day, another recall, this time it's for dry dog food. California-based Natural Balance pulled the 5-pound and 28-pound bags of Sweet Potato & Chicken dry dog food for a possible salmonella contamination.
This company has an in-house lab that found different results than the FDA, but it still went through with this voluntary recall anyway. If you spot the bags with "Best By" dates of Jun 17, 2011, in your home, discard them to be on the safe side! To find out which states could carry affected products, read more.
The recalled food was distributed in the following 26 states: Alaska, Arizona, Arkansas, California, Colorado, Hawaii, Idaho, Illinois, Iowa, Kansas, Louisiana, Minnesota, Mississippi, Missouri, Montana, Nevada, New Mexico, North Dakota, Oklahoma, Oregon, South Dakota, Texas, Utah, Washington, Wisconsin, and Wyoming.