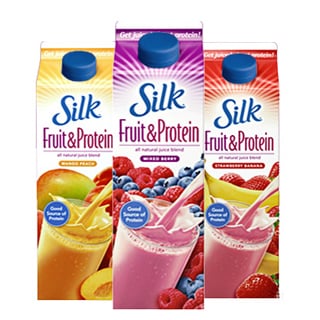 Let's be honest, mornings could use all the help they can get (especially the Monday ones). Lucky for us, Silk Fruit & Protein is here to lend our morning madness a hand. With the delicious taste of fruit juice plus the nourishing power of protein, the silky smooth Silk Fruit & Protein is not only a perfect way to start your day, but it also makes for a pretty amazing and tasty afternoon boost. Talk about getting some good news in the morning!
Silk Fruit & Protein can help get you through your day in three fruit-luscious and easy-to-love flavors: Mixed Berry, Mango Peach, and
Strawberry Banana. Check all of the
flavors out here.