Pet Food Recall: FDA Recalls Merrick Beef Filet Squares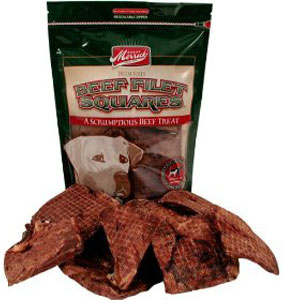 Be safe and keep these snacks away from your pets as the FDA issued a warning about Merrick Beef Filet Squares. If you still have the resealable package, check for a "Best By 11/19/11" date — those batches may be contaminated with Salmonella. To be on the safe side, if you're not sure when you bought the treats, and they look like this, discard and treat your pooch to something else instead.
Luckily no illnesses have been reported yet — the bacteria was caught in a routine inspection in December — but be careful when handling the treats (to discard them), remove anything else they could have contaminated, and thoroughly clean any containers, too.