Pharaoh Hound Trivia
What Do You Know About Pharaoh Hounds?
Look at those pointy ears! Can you guess where the hound dogs originated and learn a bit more about Pharaoh Hounds? Check yourself and see.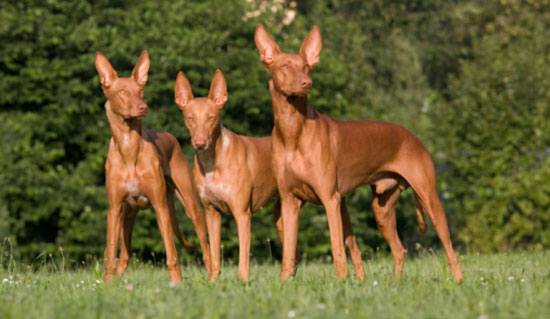 What Do You Know About Pharaoh Hounds?

Your score
0%
Avg. score
54%
Answers
What country does this breed come from?

Correct Answer: Egypt

This breed allegedly dates back to ancient Egypt as it's depicted on tombs in that country.

This breed is the national breed of:

Correct Answer: Malta

Despite Egyptian origins, the breed was brought to the Mediterranean islands by the Phoenicians and remains the national dog of Malta with a native name there of Kelb tal-Fenek, meaning "rabbit hound."

What color eyes does this breed have?

Correct Answer: Amber

The breed is known for its pretty amber eyes.

Which of the following is a common trait found in a Pharaoh Hound?

Correct Answer: All of the above

The breed should be all of the above.

Pharaoh Hounds blush when they get excited.

Correct Answer: True

That's totally true! The breed turns a deep rose "blush" on ears and nose when happy or excited.

Colors for this breed do NOT include:

Correct Answer: Sandy yellow

The colors are chestnut, red golden, tan, and rich tan.