Pictures of Baby Sloths and Bottle Feeding
Quick! It's Bottle Time For Sloth Babies of Bimba and Hugo
Survey's still out on whether you think these creatures are too cute or too creepy when fully grown, but I'm hard-pressed to call any animal ugly when there's bottle feeding involved! Two sloths named Bimba and Hugo have two babies — one is being cared for by the proud parents while this one is being helped along by vet staff at the LoroParque Zoo in Tenerife.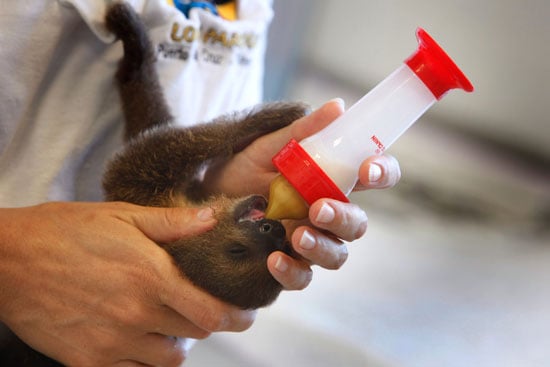 Now, we know that these creatures are pretty slow but it seems that this little one is having no trouble quickly adjusting to bottle time. He (or she) looks full and totally elated!
See more of the mealtime and happy snuggling when you read more.