Pictures of Brad Pitt's Dogs and Angelina Jolie's Dogs
Who's the Squirrel Hog in the Jolie-Pitt Furry Family?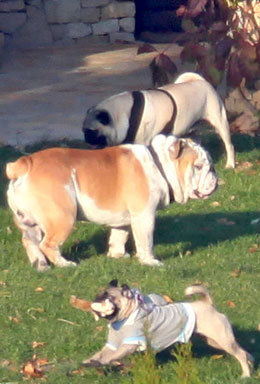 While Brad, Angelina, and the big kids were off touring Budapest, three pooches enjoyed a romp around their home. The littlest Pug tries to play keep-away with a plush toy, but none of the other dogs seem to care one way or another.
It looks like one creature from a version of Hide A Squirrel, which would come with one squirrel for each pug and the big Bulldog, too. Maybe that's why the other two don't give chase? Judge for yourself and see more pictures of the smooshies in the gallery below.