Pictures of the Dog From The Back-up Plan
Awww, "Nuts" — All About The Back-up Plan's Disabled Doggies
Ever since I spotted the very first commercial for The Back-up Plan, I've been excited for this film's release today. Yes, I know I'm biased but that pooch belonging to Zoe (played by Jennifer Lopez) is absolutely adorable! As it turns out she also owns a Greenwich Village pet boutique, Hudson Mutts, which caters to pet adoptions and environmentally friendly, healthy pet care in addition to this smooshy in the film.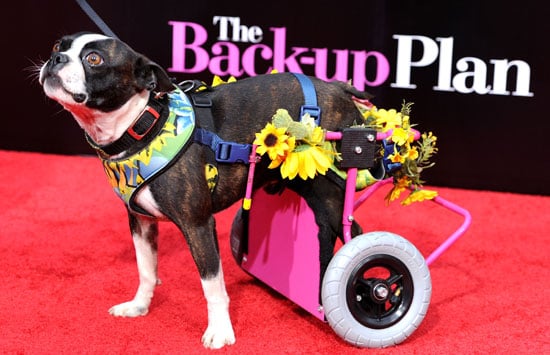 Now, onscreen the Boston Terrier's name is Nuts, but this lil fella is Nubbins, one of the three rescue pups that played the main pooch. None of the dogs were actually handicapped but Nip, Tuck and Nubbins were all pretty cute and each had their own talents as Jennifer said:
One was good at faces, one was good at walking in the chair, and one was good at moving his head and fighting with you.
I know I'm excited to see if I can spot the different dogs in different scenes so see all angles of the red carpet star when you
.