Pictures of Dogs Opening Presents
Put the Dogs to Work . . . Opening Their Own Presents
My dog loves to open his own presents (see exhibit A and exhibit B). This year, I didn't have time to capture a video of him tearing into the paper but I loved his stocking attack. He smelled the goodness and went in headfirst to retrieve it!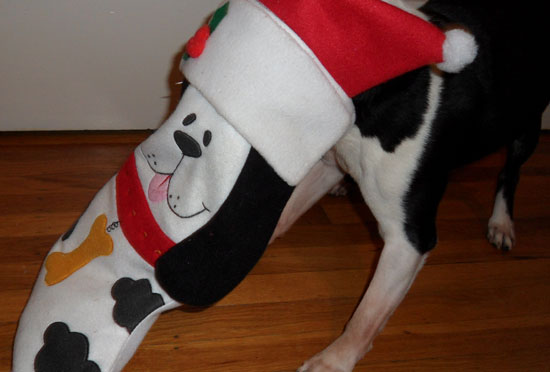 It's not hard to get pets to open their own gifts, find out how and
.
Dogs have an awesome sense of smell so use that to your advantage! First, wrap a yummy rawhide or scented toy in paper. If he's unsure what to do, show him the present and let him sniff before setting it down. If he's still sniffing but not scratching, simply tear a bit of paper off to get him started. The key is not to wrap the presents too tightly and to remember that unevenly shaped items are easier to unwrap than boxes. Be careful to make sure he's not eating any paper in the process. What a treat!