Pictures of Paul the Octopus Predicting Soccer Results
RIP, Paul the Score-Predicting, Soccer-Loving Octopus
Paul the psychic octopus had a great record on the field in the tank for the 2010 World Cup, going eight for eight predicting Germany's results and calling Spain as the victors in the final. Sadly, the almost-3-year-old, English-born creature died this morning, with his official German statement reading:
He appears to have passed away peacefully during the night, of natural causes, and we are consoled by the knowledge that he enjoyed a good life here and that the care provided him by our dedicated displays team could not have been bettered.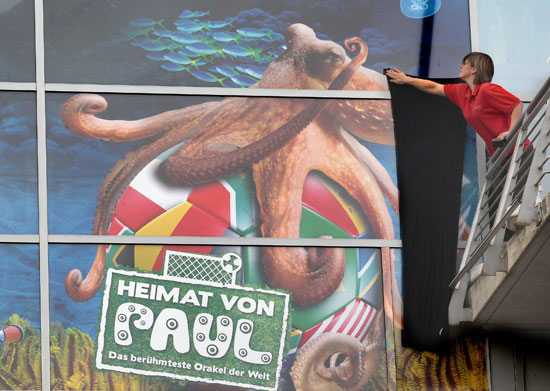 If you missed his prediction prowess, the caretakers would place a yummy mussel in two clear plastic containers and place a flag of each competing team on the respective containers. Paul first chose the treat from the team he thought would win . . . before eating the second treat, too. Although the octopus officially retired after this year's big games, he was still visited and praised around the world.
See pictures of past calls and soccer playtime when you read more.