This Plant Lives to Eat Poop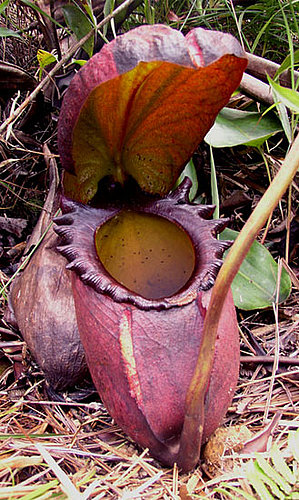 People, poop is on the menu. (Yuck.) While I consider myself to be pretty brushed up on weird mammals and even dogs feeding on feces, admittedly, I'm less familiar with green things. Still, I couldn't resist sharing this interesting find with you. Thank me later.
This pitcher (Nepenthes rajah) plant is the largest carnivorous type in the world, found in Borneo. Although it does trap vertebrates, its preferred meal plan consists of tree shrew poo. Because it features (allegedly) tasty nectar, tree shrews and other small rodents are attracted to the sweet stuff and then leave behind their not-so-sweet droppings inside the pitcher feature, which can hold almost a half gallon of liquid if filled to the brim! While I'd never let my small dog near anything like this, imagine if a plant would one day devour all our pet poop. That's genius!
Source: Wikimedia Commons User NepGrower