Puppies For Sale on Side of Street
Do Tell: What Would You Say If Someone Was Selling These Dogs on Your Street?
My pal snapped this picture to share these "Pomeranian/Chihuahua mixes" for sale outside a local shop. Am I the only one that doubts that breed combo made these puppies? But anyway, he mentioned that he felt lucky I wasn't with him because they definitely didn't look old enough to be away from their mother and he knew I'd give the people an earful for all of the above.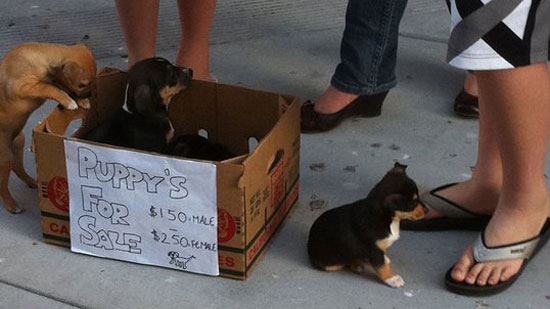 On the one hand, at least the dogs weren't immediately abandoned at a shelter but, on the other, who's to say the owners didn't plan to make money off of this "unexpected pairing" either now . . . or in the future. The whole situation doesn't sit right with me, but share what concerns you have about this scenario in the comments below.