Purposeful Poop Art Pops Up in NYC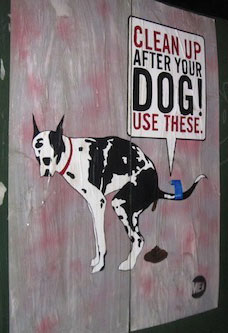 Just to play devil's advocate, let's say that some less responsible pet owners don't simply forget to pick up the poop, maybe they realized they don't have a bag to do it? Well, to address both the problems — and hammer the point home — is this new art installation by Jay Shells to tackle the pet peeve.
When I spotted this picture, I loved the artwork and the simple message with an instant solution as the squatting dog is pooping out a roll of poop bags that passersby can use for themselves. Cuter than the Ikea holder in my kitchen and own local park, I'm jealous I don't live in NYC to see this for myself.
Source: AnimalNY