Recipe For Peanut Butter Dog Treat
Celebrate National Dog Biscuit Day With Homemade Goodies!
Tomorrow is National Dog Biscuit Day — why not celebrate by treating your pooch to some homemade yummies? These healthy dog treats are a DIY-licious idea from Whole Foods. Although the depicted green comes from a pinch of parsley, dried mint can be swapped in for even fresher breath.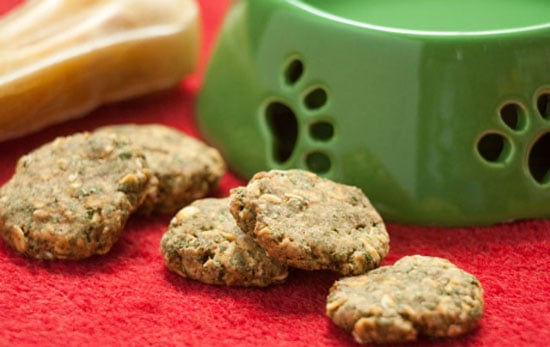 If you're curious to learn the six ingredients and check out the recipe to bake for yourself your dog, then just read more.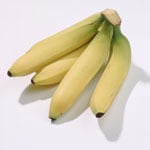 Ingredients
1 banana, peeled
1 cup oat flour
2/3 cup rolled oats
1/2 cup dried parsley
3 tablespoons peanut butter
1 egg, beaten
Directions
Preheat oven to 300°F.
Put banana in a large boil and use a spoon or potato masher to mash it thoroughly.
Add oat flour, oats, parsley, peanut butter and egg and stir well to combine. Set aside for 5 minutes.
Roll mixture into 24 balls, using about 1 tablespoon dough for each; transfer to a large parchment paper-lined sheet tray as done.
Use the back of a spoon or the heel of your hand to press each ball into a (1 1/2- to 2-inch) coin.
Bake until firm and deep golden brown on the bottom, 40 to 45 minutes. Set aside to let cool completely.
Storage note: It's best to store these in an airtight container in the refrigerator. Or, freeze them to give to your pal later; just be sure to thaw the treats before handing them out.
Information
Category

Pet Treats, Dog Food

Cuisine

North American
Source: Whole Foods Market