Recipe For Turkey and Cranberry Dog Treats
Bake This Up on Thanksgiving Day
Happy Thanksgiving! Thanks to Dogtipper, I spotted an awesome recipe for turkey and cranberry treats for pups. They're a great way to treat a pup today, and there's plenty left over as well.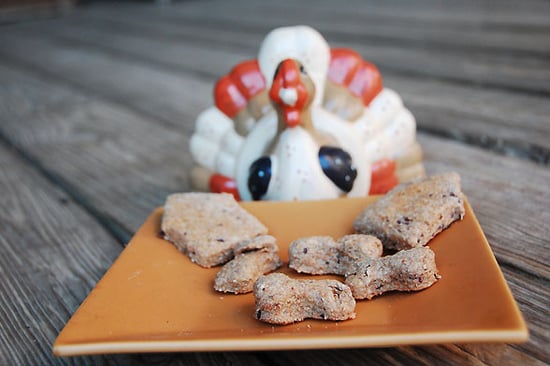 Set aside what you need from the Thanksgiving meal and bake them up later on if you prefer. See the recipe and read more.
Turkey and Cranberry Dog Treat Recipe
Ingredients
1 cup whole cranberries
1 cup cooked turkey (no bones)
3-1/2 cups whole wheat flour
1 egg
1 tablespoon baking powder
1 tablespoon olive oil
1/2 cup water or broth as needed
Directions
If you're cooking your turkey as you make the treats, you can use the broth in this recipe. In that case, you probably won't need the tablespoon of olive oil. I was using frozen turkey so it was dry, and the recipe needed a little oil.
First, preheat your oven to 350 degrees and lightly grease two cookie sheets.
Next, mix the dry ingredients in a large mixing bowl. In a blender or food processor, add the turkey and egg (and some of the water or broth as needed). When the turkey has the consistency of baby food, add the cranberries and continue to mix until it looks like a smoothie.
Pour this mixture into the mixing bowl with the dry ingredients and stir to create a thick dough. On a lightly floured surface, knead the dough. This is a heavy dough so you'll need to put a little muscle in it!
Use cookie cutters to cut the treats and put the treats on the cookie sheets and pop them in the oven for 25 minutes. I rolled out my dough pretty thick so the treats were slightly chewy inside. Let them cool completely before serving them to your dogs or before refrigerating.
Information
Category

Pet Treats, Dog Food

Cuisine

North American

Source: Dogtipper