Siku Baby Polar Bear Appears on Live Video Cam
The Siku Cam: A Live Show So Cute We Can't Bear It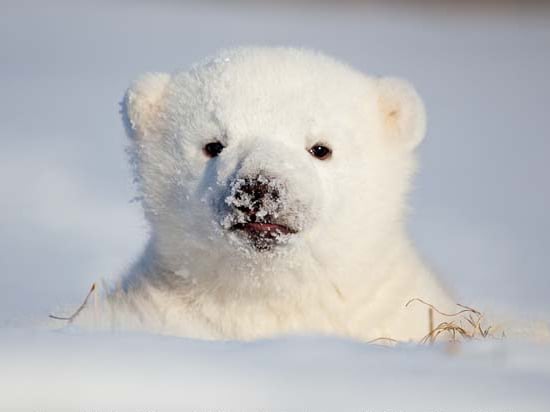 Siku fever has hit, and we'll admit it: we're afflicted! The lovable baby polar bear is just 3 months old, but he's already claimed the hearts of animal lovers, environmentalists, and fans of cute. We've seen plenty of adorable photos, but if like us, you just can't get enough, now through a joint effort between Explore.org and Polar Bears International, you can watch Siku live!
Every day from 9 a.m. until 11 a.m. EST, the un-bear-ably cute baby polar will appear live via high-definition video from his home at Denmark's Scandinavian Wildlife Park. The live cam's backers hope that he will become an ambassador for his roughly 25,000 relatives remaining in the wild whose survival is threatened by the melting of polar ice. Siku, whose name means "sea ice," would like us all to remember to shrink our carbon footprint in the hopes of saving the polar bears' Arctic home!
For five easy ways you and your pet can help reduce carbon emissions, just keep reading.
Turn down the heat. Today, Polar Bears International is encouraging folks to join them in "Bundling Up For Polar Bears" by turning down the heat two degrees, and it's a practice worth remembering every day. Ensuring that your home is properly insulated and your windows and doors seal completely will make it easier to take the heat down a notch. Just keep a sweater on hand for you (and for your pet!).
Buy local. Food uses lots of fuel and energy to transport over long distances, so buying foods that are produced nearby will shrink the carbon footprint. Check out your local pet store for food, treats, and toys manufactured in your area.
Walk! Hoof it while running your errands, and you'll save on fuel and please your pup while you're at it! If your errands are not walking distance from your home, try grouping them so that you can leave your car parked while crossing off several items on your to-do list at once.
Pour your own water. Bottled water carves out a large carbon footprint because it's bottled in one place and then shipped all over the country. Get your own reusable water bottle that you can wash after each use. Your pet can pitch in, too: buy a fold-up water bowl for travel and a plastic bottle-top drinking adapter for walks.
Reuse and recycle. Many cities take recyclable materials during regular garbage pickup times, but look for ways you can reuse some items that would normally go in the trash like plastic food containers and disposable grocery bags. Dog poop bags and kitty litter are huge eco-offenders, so try biodegradable and compostable options whenever possible. And organize a toy swap with your pet's friends to refresh playtime options without accumulating more stuff.